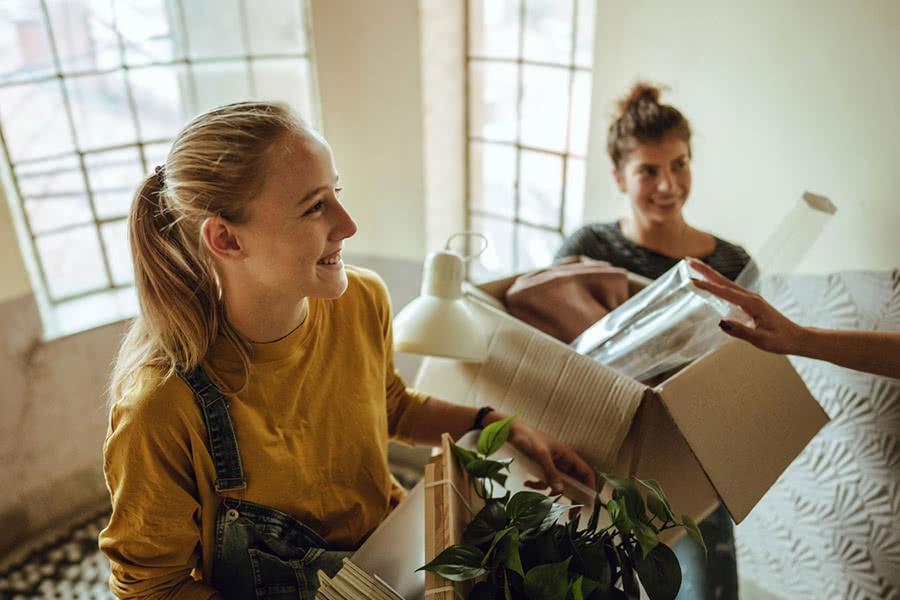 Most people get their first apartment when they're at college or when they're just out of college. When in college, you might opt to share an apartment with other students living in the neighborhood and going to the same school. Even after college, a lot of people opt to live with roommates, partly for the company and partly because it's cheaper. Of course, living with roommates does come with its own set of stresses, but so does living on your own. Either way, there are several things you should consider before you get your first apartment:
Roommates/Solo
Think about your financial situation. Will it allow you to get your own apartment? Are there studio apartments available in the neighborhood you're looking at? And are they being rented at a price that's within your grasp? If not, then it's probably a good idea to share an apartment with roommates.
The other thing you need to consider is whether you're going to be happy living on your own. There are people who can keep themselves busy and happy on their own; they don't need to have anyone around them. But there are others who feel better knowing that someone else is in the apartment. So just think about your personality type and whether you prefer to spend more time alone or with others. This will help you to decide whether you should live with roommates or go solo.
Rent for Your First Apartment
The other important thing you need to consider when renting an apartment is how much it's going to cost. For someone who has never rented an apartment before, you may not realize what a responsibility it is to have to pay rent every month. This is likely to be the biggest of all your expenses. So it's important to find something that suits your budget.
In general, your rent should not be more than 50% of your monthly income, less if possible. You'll need the other 50% for food, transportation, books, entertainment etc. So figure out what your monthly income is going to be. If you're a student, this means adding up what you're getting from your loans, campus job, grants, parents etc. If you've already graduated, then your income is going to be the amount you're making minus any loan payments you're scheduled to make.
Miscellaneous
There are other miscellaneous things you need to consider when choosing an apartment to rent.
Safety: First of all, is the apartment located in a safe neighborhood? You can find out by doing some online research.
Transportation: Is the apartment located close to some form of transportation? If you're driving, then just make sure your drive is not too long. If you need to take a bus or a train, then make sure the bus/train stop is located within walking distance.
Amenities: You'll also need to scour the neighborhood before you rent in order to make sure that all the amenities you need are located close by, such as a grocery store, a laundromat, a gym, restaurants etc.
Basements/Attics: Sometimes, students or people on a budget opt for a basement apartment because these are cheaper to rent. In such cases, do make sure that the apartment has at least some light or you might end up feeling low and depressed being without any natural light. It might be a better idea to go with an attic space instead.
Furnishings: Furnishing your first apartment can be exciting as well as daunting. Remember that you don't have to spend a lot of money on furnishings if you can rent a small truck and visit your local IKEA. But do make an effort to furnish your space so that you are comfortable in it and feel good living there.
Learn More About Your First Apartment
Renting your first apartment can be stressful, and there are many things you'll have to take care of. But renting an apartment can also be rewarding; you'll feel good about the feeling of independence it gives you when you're doing things on your own and managing your finances without anyone's help.